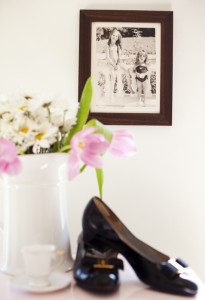 It may feel like a million years ago, but just a few years back my sister and I were far away from living the dream as owners of our very own vintage store.
I was half of a creative team working in an ad agency in Cape Town and Simone was finishing her master's degree in organisational psychology. We both quit our jobs within months of each other and ventured off on our own. Simone went to walk the Camino in Spain and I went shopping in the USA.
6 months later we were sitting on a beach in Napoli dreaming up a name for our vintage store.
Afraid of Mice is filled with the clothes you wish your mother had kept for you. Every item is hand-picked because there is something about it we love. It could be the stitching, the fabric or a tiny lace detail but nothing is bought en masse. Every piece is special.
Our shop doesn't feel like what we have come to expect from vintage stores. It's not cluttered or dusty, the rails aren't overstocked and you don't have to battle to find your dream dress. We've done all the hard work for you! Our clothing is sourced ahead of season to keep up with current trends and runway styles. As well as the fact that most of the labels we stock cannot be found anywhere else in South Africa. We have one-of-a-kind pieces from Chanel, Oscar De La Renta, Marc Jacobs, Ralph Lauren and Stella McCartney.
Not only do we sell second-hand and vintage clothes, shoes and bags but we also buy directly from the public. Should you have any goodies you dont wear anymore, get in touch and we'll take a look see!
"This is a top-notch vintage store offering classics at affordable prices, a shop to spend a good part of your day in" – Elle magazine
"With its crisp white walls, uncluttered rails and prime location in Long street, Afraid of Mice's new boutique is the exact opposite of what you've come to expect from vintage shops. Best of all? The prices are accesible!" – Fair Lady
"You find yourself seduced by the affordable and beautiful garments, bought with an eye for quirkiness and current trend. Go and play with them. They are nice." – Robyn Cooke, fashion editor and stylist