When it rains, it pours.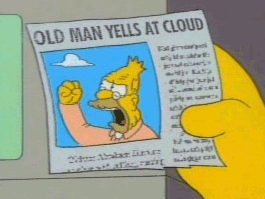 It was raining something crazy today in downtown Seattle. Getting from shop to shop was almost impossible and I stupidly left my umbrella at home.
For just a moment the rain stopped and I decided to make a dash for it. Well, in my attempted dash the wind blew the awning above me up and down and suddenly all the rain that had collected on top of the awning came crashing down.
All.on.me.
I was more than just soaked. It was like five million buckets of water crashed on me at once.
It even made a movie "splash" sound.
To make it worse, a rather cute guy waiting to cross the road in front of me saw it all happen and burst out laughing.
I guess it was funny. But at that very moment, I felt like crying.
I hate you rain. And wind. And cute boy for laughing.