Fashion has a soul – his name is Bill Cunningham
Posted by the big sister, Simone.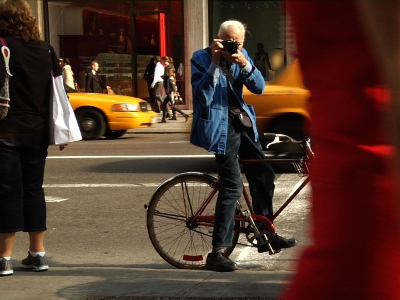 I am always on the hunt for inspiration. I am addicted to it and I find it in the strangest places.  Last week someone brought in a pair of vintage silk holdups in their beautiful original box. Never-been-worn. I felt my  heart skip a beat. Birdy's version of Skinny Love. Halstons legendary mirrored studio in UltraSuede. Moschino's Matadoresque Spring 2012 Collection. Tim Burton's Melancholy Death of Oyster Boy.
I recently stumbled on the documentary of Bill Cunningham. I havent felt this inspired since I bought my first vintage Officer's Dinner Jacket at the age of 13 with money made from peddling pyjamas at the Rosebank Rooftop Market. This is the man who has been photographing the stylish men and women of New York and Paris since 1960. Makes Scott Schuman look like a blundering amateur.  Anna Wintour dresses everyday in the hope of being photographed by him. At Paris Fashion Week he was called one of the most important men on the planet. Pushing 90 and rocking his legendary cobalt blue labourers coat Bill still uses a manual camera, he lives in a tiny rent controlled apartment in the recesses of Carnegie Hall and he rolls around the streets of New York on his 29th Schwinn bicycle (28 have been stolen) .  Bill Cunningham is a man of principle. To him paparazzi are vulgar and only care about photographing famous people who get their clothes for free anwyay. He prefers to remain invisible and photograph stylish people instead. Some of them may be famous.
Bill is the legend who mainstreamed street fashion and doesn't even own a cellphone.  Follow his daily reports On the Street